"There are only two ways to live your life. One is as though nothing is a miracle. The other is as though everything is a miracle", Albert Einstein
That moment in which I realize… Being born again
Ten days have passed since the last Meningeal Approach course, that prodigious technique developed by Jose Luis Perez Battle, which is the natural evolution of the Craniosacral Therapy.
In fact, it is covered by the Upledger Institute, which in many ways confirms its immense value within the world of manual therapies, where it is bound to power ahead. It is for a reason that in Spain the Meningeal Approach is heard about more and more when we refer to the very necessary trauma of birth and the tensions that are generated in the baby during its stay in the uterus. But I'm getting away from what I really want to share, which is my personal experience. It has taken me ten days to be able to do it… Thinking, feeling, understanding…
The 2nd module of the Meningeal Approach, which is the one that I was lucky enough to experience and share with my colleagues, focuses on the moment at which the baby passes or doesn't pass through the birth canal and the tensions that generates. The weight that the parietal bones have to bear and how it is manifested in the temporomandibular joint, concepts like the treatment of the medullary cone, etc.
Seeing that my birth was by Caesarean section and I was caught in a double cord twist, this was the course for me, "it was my moment". I was presented with the opportunity to heal and liberate my body of those tensions and the opportunity to receive the stimulation that I lacked by not experiencing a vaginal birth. I went to Granada feeling nervous and happy about what I was going to experience and learn. Although I would never have imagined, not for an instant, the change that was going to happen in my daily routine and in my whole life.
Since I started learning about Osteopathy and its different facets, I have been working on my jaw, but my bite was not being corrected and I got the impression that my temporal bones were like a creaking rusty door, that cracking of the bone that made my skin creep and that would only disappear once it created a still point in my occipital. At this point, I was actually used to it and I no longer even noticed my irregular bite, until I got to Granada, obviously.
Take a look at my bite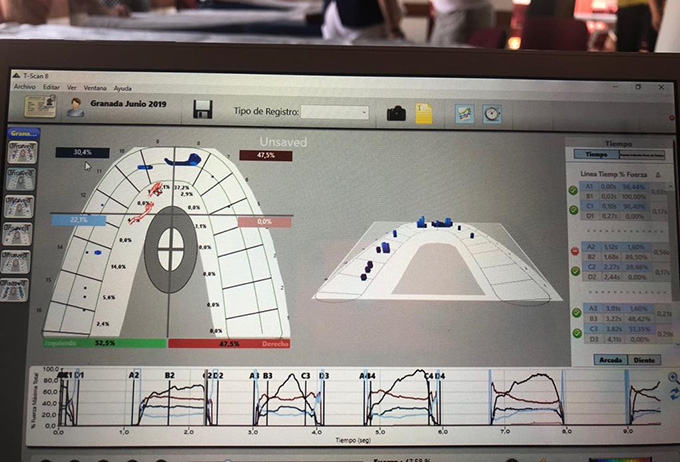 You can perfectly appreciate on the right-hand side of the image, how my bite hardly exists.
After a 40-minute treatment of the parietals… these were the results: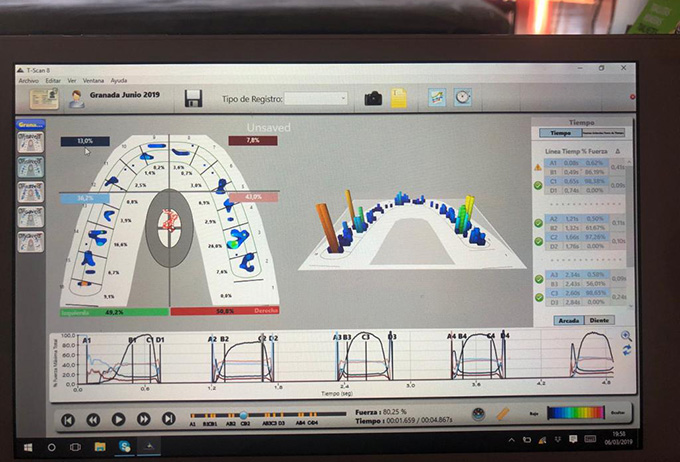 What can we say when the images speak for themselves?.
40 minutes of treatment and changes in my jaw that still persist, when the osteopathic manipulations that had been carried out on me up until now lasted a day at most…
Don't you think Jose Luis Perez Batlle has revolutionized the concepts and ways of working in this field? It's not just idle talk, he doesn't need publicity, the results are there and they speak for themselves. I must say my teeth feel very grateful.
The other technique that has left a mark on my life, was the treatment of the medullary cone and its visceral and diaphragmatic relationship. Discovering, something very logical when you realize it, that to solve visceral problems it isn't necessary to resort to the viscera. There are a lot of tensions generated from the skull to this small portion of the human body that is the medullary cone, which is the point of origin of 20 nerve roots, which causes various problems like insufficient venous return, gynecological, prostate, and digestive disorders, intolerances, and many more. In any case, as a theory it was acceptable, but I had to see it for myself, so that day I went to eat out and I chose from the menu the food that most disagrees with me, in fact, it gives me or gave me stomach aches and reflux. And imagine my surprise when the food agreed with me perfectly.
I then thought these were the benefits I had obtained from the treatment, but I was on the second day of my period. Normally, having a polycystic ovary, I have painful and heavy menstruation. Nowadays, for the first time since I first got my period, I have a lot of energy, I go running, there isn't any inflammation or pain and I feel like any other normal day…
More changes? Yesss, though I don't want to bore you anymore, recently my chronic tiredness has disappeared, I don't drag myself to bed every day to take a very long nap. I feel vital, with the energy that I had never felt before.. Thank you!! Thank you Jose Luis, for everything you give us… we all have a lot to thank that restless soul of yours for. Thank you Fernando Barea, for always being very attentive and helpful. You've had a lot to do with my birth!! Thank you Antonio Castillo! Always tireless and unstoppable. Thank you to Doctor John that made all of this possible.
With this article I hope to have transmitted how much this course has meant to me, as it has added value to the previous course and will contribute to the next one. I just want to add that if you want to learn more about this, contact the Pérez Batlle Institute or if you are ever in Bilbao I would be honored to tell you more, and share my experience. As Jose Luis says, "it's easy to learn, hard to believe"
And remember…
"There are only two ways to live your life. One is as though nothing is a miracle. The other is as though everything is a miracle", Albert Einstein
Written by : Instituto Pérez Batlle